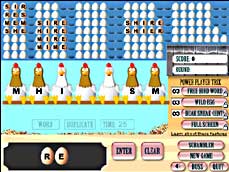 In this "word game" the chickens supply letters and you place bets on how many words you can make from the letters provided (hint: You can use your keyboard to type in your answers, instead of clicking on them! ). A good little thinking game for the "smarty-pants" who likes a good challenge.


---
"Spank the Frank"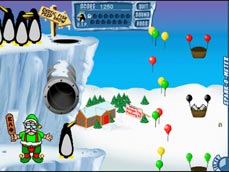 A game of "skill". You must "spank" penguins into baskets that float by to collect points. Watch out for baskets with sharp claws and other treacherous and fatal obstacles. The harder you spank the penguin, the further it flies! Such is life....

---
"Sketchy Snow Sledding "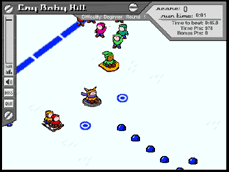 Race against other kids on sleds! Jump ramps, run over kids who are out on the course, all in fun! People even cheer you on as you cruise downhill. Pick from three different sled teams too. This will get you ready for winter!

---
"Wacko Jacko's Voodoo Curse"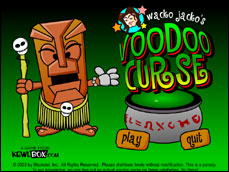 This one isn't really a "game", more of a weird "mind reader" type of trick. You pick a number and a picture and somehow it always knows which one you picked. creeeeepy. (based on Michael Jackson paying a voodoo priest $150,000 to put a curse on some of his "enemies")

---
"Santa Balls "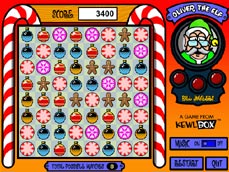 This one will kill some time! Move holiday goodies around to line up three or more of the same goodie in a row. They disappear and are replaced with more! A bonus is Santa talks some smack when you mess up, and cracks jokes when you do well.

---
"Santa Balls 2"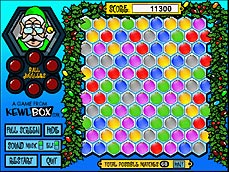 Same idea as "Santa Balls" shown above, but now "his balls" slide at an angle too, instead of just horizontal and vertical. Of course he still cracks jokes when you click the wrong balls. If you do really well he'll tell you about his "ball movements". What a treat.

---
"Letter Rip"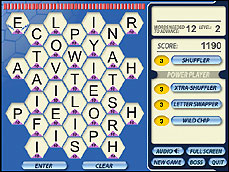 This game will get you thinkin'. Create words from the letters provided to rack up points. You're also trying to create a certain number of words against the clock to advance to the next level. The tricky part is that the letters you choose must be touching one another. You gotta be clever!

---
"Topsy Turvy"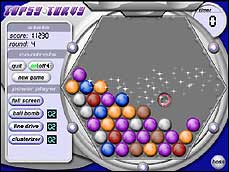 Try to click on clusters of three or more colors to clear the screen. The tricky part is that the "playing field" rotates and keeps shuffling up the colors on you.

---
PLEASE NOTE: These games are "demo" versions. Some of the more advanced options are not available unless you buy the full version from Kewlbox.com. We do not receive any commission/kickback if you play the demo or buy the full version. We just posted them because we enjoyed the demo versions and thought you might enjoy them too.